Basic Beef Burger
There is something so delicious about a basic beef burger. Focus on the quality of the meat and keep it as simple as possible.
PREP TIME:

15 minutes

COOK TIME:

15 minutes

SERVINGS: 4

persons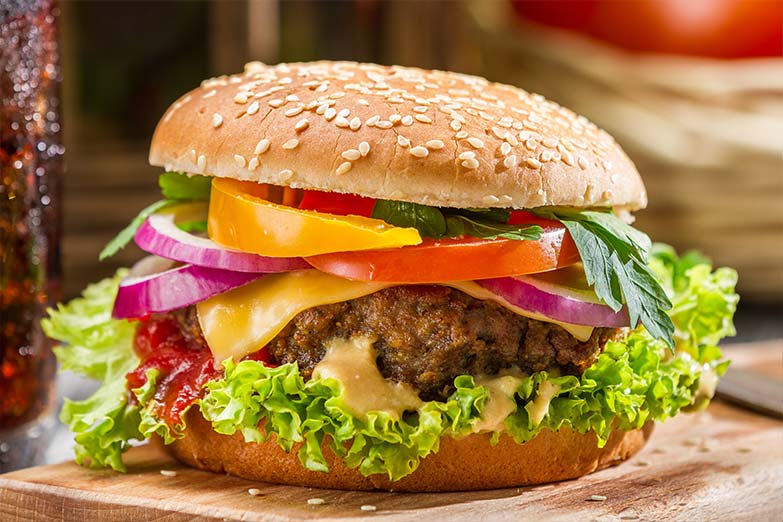 INGREDIENTS
700 grams beef (80% lean)
Salt & Pepper, for seasoning
8 slices cheddar cheese
4 burger buns, split
Lettuce, for serving
1 tomato, sliced for serving
Mayonnaise, mustard or preferred condiment of choice
DIRECTIONS
1. Sprinkle the ground beef evenly with 1/2 teaspoon salt in a large bowl.
2. Gently form the meat into 4 balls, then lightly press into 4-inch-wide, 1-inch-thick patties.
3. Make a 2-inch-wide indentation in the center of each with your thumb to prevent the burgers from bulging when grilled.
4. The burgers can be made on a barbeque grill or on the stove in a grill pan.
5. Preheat the grill to high. Season the patties with salt and pepper.
6. Grill, undisturbed, until marked on the bottom, 3 to 5 minutes. Turn and grill until the other side is marked and the patties feel firm, 3 to 5 more minutes.
7. Top the beef burgers with 2 slices of cheese and cover with foil to let it melt.
8. Take the beef patties with cheese and serve it on the buns. Top with lettuce and tomato and the top burger bun.
Notes:
Photo Credits: Shutterstock.com
Inline popup