Beef Koftay ka Salan
The Desi version of meatballs – our version consists of delicately spiced koftay in a rich gravy.
PREP TIME:

30 minutes

COOK TIME:

45 minutes

SERVINGS: 8

persons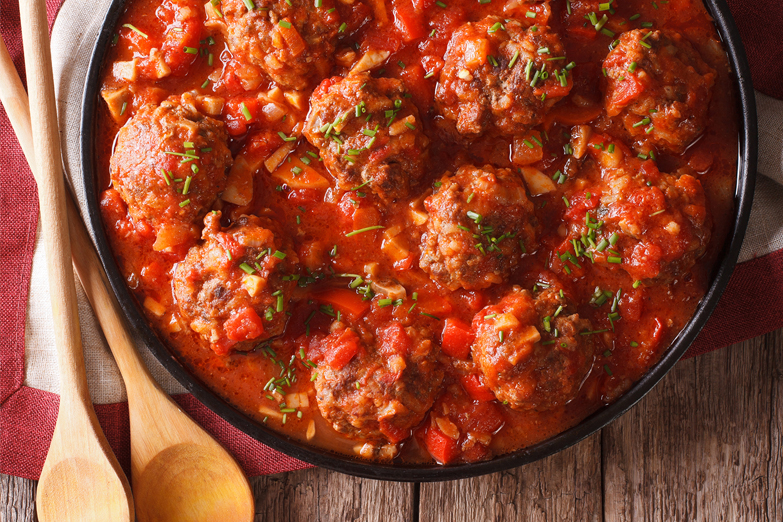 INGREDIENTS
1 kg beef mince / qeema
2 onions, finely chopped
2 tablespoons garlic paste
1 tablespoon ginger paste
2 tablespoons garam masala (for the Koftas)
1/2 cup coriander leaves chopped fine
Salt to taste
Roasted gram flour / besan, if necessary
For the Kofta Curry
3 tablespoons vegetable/canola/sunflower cooking oil
1 tablespoon ginger paste
2 tablespoons garlic paste
2 teaspoons coriander powder
1 teaspoon cumin powder
1/2 teaspoon turmeric powder
1 teaspoon chilli powder
1 teaspoon garam masala (for the gravy)
4 large tomatoes cubed
DIRECTIONS
1. Take a large bowl and add beef mince / qeema, 2 chopped onions, 2 tablespoon garlic paste, 1 tablespoon ginger paste, 2 tablespoons garam masala, salt and coriander. Mix all ingredients together and make little kofta balls. Set aside.
2. In case the mixture isn't forming together add an egg or roasted gram flour to help it bind properly.
3. In the meanwhile, heat oil in a pan and add 3 chopped onions. Fry the onions till they are light brown.
4. Add ginger and garlic paste. Cook for a minute.
5. Add spices (coriander, cumin, red chilli powder, 1 teaspoon garam masala and turmeric). Cook for 2-3 minute and saute well to make sure the spices bhoonofy.
6. Add tomatoes and mix together. Mash the tomatoes so that they break and start forming the masala. Cook the tomatoes for about 10 minutes then add water.
7. Once the oil separates and comes to top, add the meatballs.
8. Be very careful in adding meatballs so that they don't break. Turn heat to low and let the meatballs simmer in the gravy. Don't stir with a spoon as the meatballs can break. If necessary, swirl the pan around to mix.
9. Once the meatballs are cooked through, turn heat off and set aside.
10. Serve with rice or roti / naan.
Notes:
Inline popup