Stir-fried beef with vegetables
Make sure you get good beef, preferably veal to make this quick stir-fry with vegetables. Serve with rice.
PREP TIME:

45 minutes

COOK TIME:

30 minutes

SERVINGS: 4

persons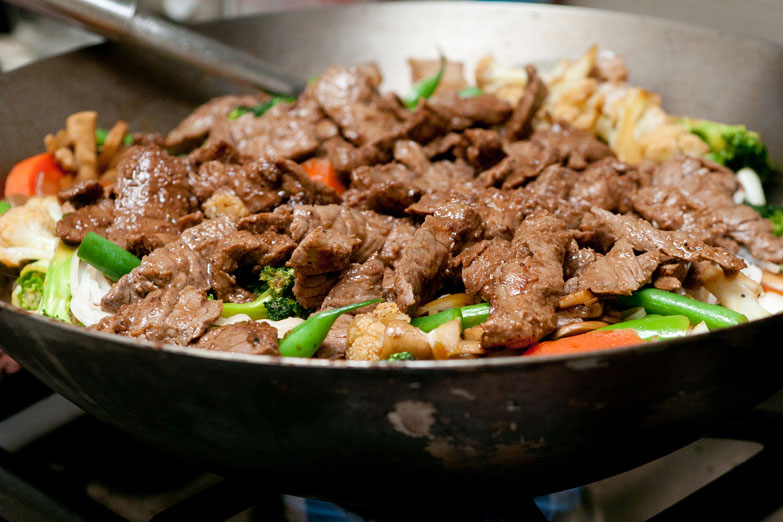 INGREDIENTS
500 grams beef / veal under-cut , sliced about 1/8 inch thick
½ teaspoon salt
½ teaspoon sugar
¼ teaspoon ground black pepper
1 teaspoon soy sauce
1 teaspoon vinegar
2 teaspoon oil
1/2 teaspoon cornstarch
1 1/2 cups fresh broccoli florets
1 green capsicum, sliced
2 carrots, thinly sliced
1 green onion, chopped
1 teaspoon minced garlic
2 tablespoons soy sauce
2 tablespoons sesame seeds, toasted
DIRECTIONS
1. Place the beef in a large bowl. Add the salt, sugar, ground black pepper, soy sauce, 2 teaspoons oil, and cornstarch. Mix well and set aside for 30 minutes.
2. Heat oil in a large wok or skillet over medium-high heat.
3. Add beef and stir until browned, about 3 – 4 minutes.
4. Move the beef to the side of the wok and add vegetables. Start with garlic, capsicum, carrots and broccoli. Cook and stir vegetables for 2-3 minutes.
5. Mix the vegetables and beef together. Add soya sauce, salt & pepper to taste. Add sesame seeds and green onions. Cook and stir until the beef & vegetables are tender. If necessary, add a splash of water to prevent sticking.
6. Serve with rice.
Notes:
Inline popup