Mutton Chops with Potatoes & Mustard Mint Sauce
Keep the seasoning on these mutton chops completely basic! The mustard & mint sauce will give a kick that your family will love.
PREP TIME:

15 minutes

COOK TIME:

60 minutes

SERVINGS: 3

persons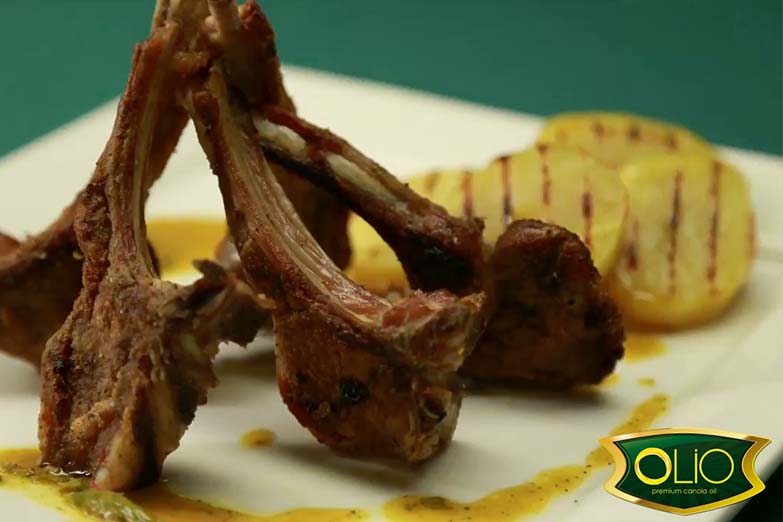 INGREDIENTS
For the mutton chops
Mutton Chops, 500 grams
1 teaspoon salt (adjust to taste)
½ teaspoon black pepper
3 cloves garlic, sliced
¼ teaspoon red chili flakes
1 – 2 tablespoon Olio canola oil
For the grilled potatoes
½ kg potatoes
1 teaspoon salt
1 – 2 tablespoon Olio canola oil
For the mint & mustard sauce
1 tablespoon Olio canola oil
1 teaspoon mustard paste
2 tablespoons lemon juice
½ teaspoon salt
½ teaspoon black pepper
1 tablespoon chopped mint
DIRECTIONS
1. Lay out mutton chops on a baking tray or similar platter.
2. Season the mutton chops with salt & pepper on both sides.
3. Heat a grill pan and brush with Olio canola oil.
4. Put the mutton chops on the grill and cook on medium heat for about 5 -10 minutes till cooked from the bottom.
5. Brush Olio canola oil on the top of the mutton chops and sprinkle garlic & chili flakes. Turn the mutton chops and cook on the other side for about 10 minutes. Make sure the mutton chops are completely cooked through and turn them on their sides if necessary. Take them off the heat and set aside.
6. Meanwhile, boil the potatoes with 1 teaspoon salt for about 30 minutes. The potatoes should be almost cooked through.
7. Slice the potatoes thickly and brush with oil & red chili flakes.
8. Grill the potatoes slices on both sides, adding Olio as required. Set aside.
9. Take a small bowl and add Olio canola oil.
10. Add mustard paste, lemon juice, salt, black pepper and chopped mint. Whisk till mixed through.
11. Taste & adjust seasonings if required.
12. Serve the grilled mutton chops with grilled potatoes and a drizzle of the mustard & mint sauce.




Notes:
Inline popup