Basbousa
Basbousa is a middle-eastern cake made with semolina / suji, almonds & coconut. The cake is first baked and then a sugar syrup is drizzled on top.
PREP TIME:

15 minutes

COOK TIME:

45 minutes

SERVINGS: 8

persons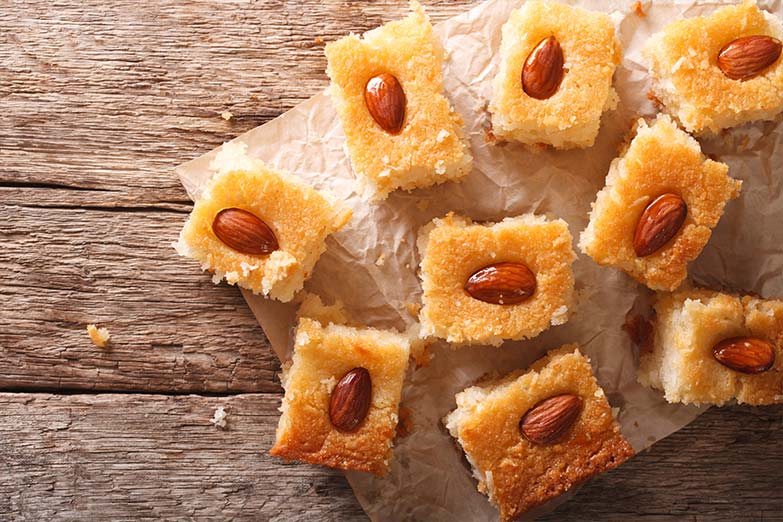 INGREDIENTS
Cake:
½ cup plus 2 tablespoons unsalted butter
1 cup sugar
1 cup plain yogurt
1 cup fine sooji / semolina
⅓ cup milk
1 teaspoon baking powder
¼ cup shredded coconut
¼ cup sliced almonds
Syrup:
1½ cup sugar
2 cups water
½ stick cinnamon / daal chini
¼ teaspoon lemon juice
DIRECTIONS
1. Preheat the oven to 180 degrees centigrade.
2. Place the butter in a small bowl and melt in the microwave or on the stove.
3. In a large mixing bowl, combine together the sugar and yogurt. Now add in the semolina / suji, baking powder and milk. Finally stir in the melted butter making sure the butter is well absorbed.
4. Transfer the semolina mixture into a lightly greased 9"-round cake pan or baking dish. Bake in the pre-heated oven for about 40-45 minutes.
5. While the cake is baking, prepare the cinnamon simple syrup. In a small sauce pan or pot, combine the sugar, water and cinnamon stick. Bring to a boil on high heat, stirring until sugar dissolves. Turn heat to low and let cook for a few minutes until the syrup thickens. Remove from heat and stir in the lemon juice. Let cool completely, then remove the cinnamon stick.
6. As soon as the basbousa is removed from the oven, pour the cool syrup on the hot basbousa. Let cool completely; syrup must be absorbed into the cake. For best result, let it sit for 1 hour before serving.
7. When ready to serve, top the cake with coconut & almonds.
Notes:
Inline popup