Aloo Gosht
Aloo gosht is the classic daily dinner at a Pakistani household.
PREP TIME:

15 minutes

COOK TIME:

75 minutes

SERVINGS: 4

persons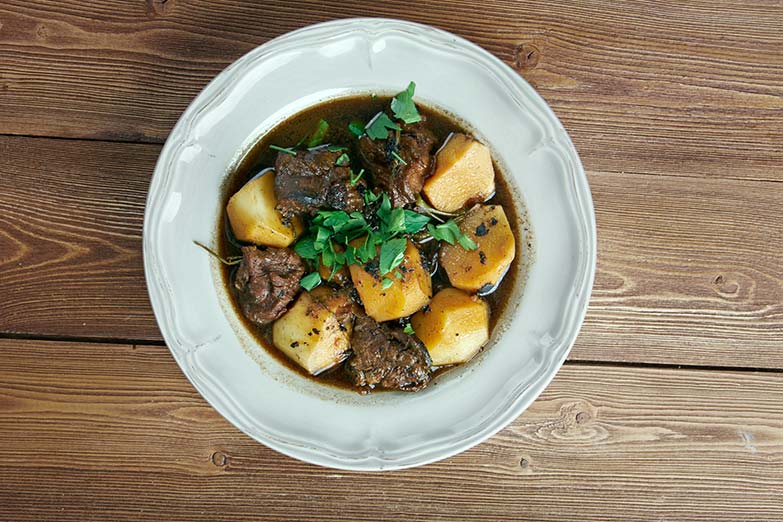 INGREDIENTS
4 potatoes
1 ½ teaspoon turmeric powder
½ kg mutton
2 onion, finely chopped
1 tablespoon red chili powder
1 tablespoon ginger garlic paste
salt to taste
½ cup oil
½ cup Yogurt
2 green chilies
1 teaspoon garam masala powder
½ bunch Fresh coriander leaves, chopped
2 green chilies, finely chopped
DIRECTIONS
1. Peel potatoes and cut them into pieces.
2. Mix ½ teaspoon turmeric powder with water and soak the potato pieces in it.
3. In a pan heat oil, add mutton, onion, ginger garlic paste, remaining 1 teaspoon turmeric powder, red chili powder, salt and 2 cups of hot water.
4. Cook till water dries and meat is tender.
5. Add yoghurt and potato pieces. Stir fry to crisp up the potatoes from the edges.
6. Add 2 cups of water and simmer for 10 - 15 minutes – the potatoes should be tender.
7. Once the oil separates, add garam masala powder, fresh dhaniya and chopped green chilies. Simmer for another 2-3 minutes and then turn off heat.
8. Serve hot with naan.
Notes:
Inline popup