Spicy Chicken ka Salan
The regular chicken ka salan that we have for dinner at least once a week.
PREP TIME:

15 minutes

COOK TIME:

45 minutes

SERVINGS: 4

persons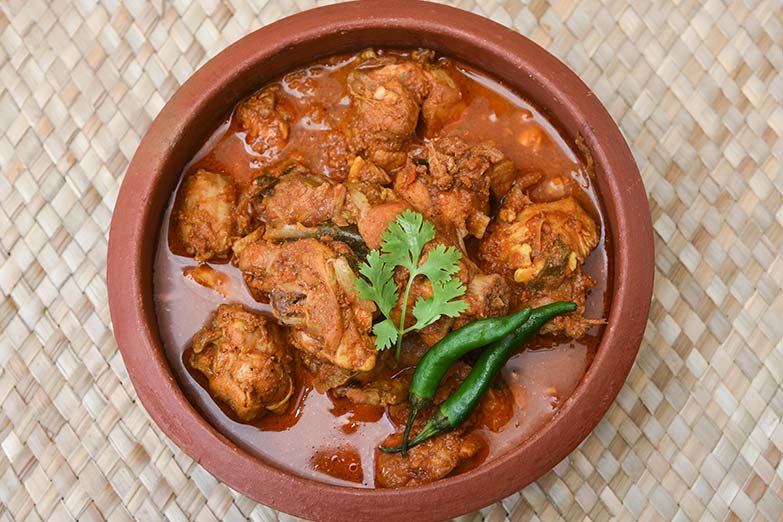 INGREDIENTS
2 – 3 tablespoons oil
3 - 4 cardamom pods (elaichi)
5 – 6 black peppercorns (kali mirch)
500 grams chicken
2 medium onions, chopped
6 garlic cloves, finely chopped
1 inch ginger piece, chopped
1 large tomato, chopped
1 teaspoon red chili powder
½ teaspoon turmeric powder
1 teaspoon salt (adjust to taste)
4 tablespoons coriander leaves (dhaniya)
DIRECTIONS
1. Heat oil in a medium sized pot.
2. Add cardamom (elaichi) and black peppercorns (kali mirch) and saute till you can smell the aroma.
3. Add chopped onions and cook till light brown. Make sure they don't burn.
4. Add chopped ginger and garlic and cook for about a minute till light brown.
5. Add tomatoes and spices (red chili powder, turmeric powder and salt). Saute for a minute to cook the spices then turn heat to low to soften the tomatoes.
6. Once the tomatoes are soft, add the chicken pieces. Cook chicken on medium – high heat till color changes from pink to white.
7. Add 1 cup water, turn heat to low and cook for about 30 – 35 minutes till chicken is tender.
8. Serve with roti or rice.
Notes:
Inline popup