Crispy Chicken Wraps
These crispy chicken wraps are great for a casual dinner or you can cut them in half and serve them at your next tea-party.
PREP TIME:

15 minutes (plus marination time)

COOK TIME:

20 minutes

SERVINGS: 6

persons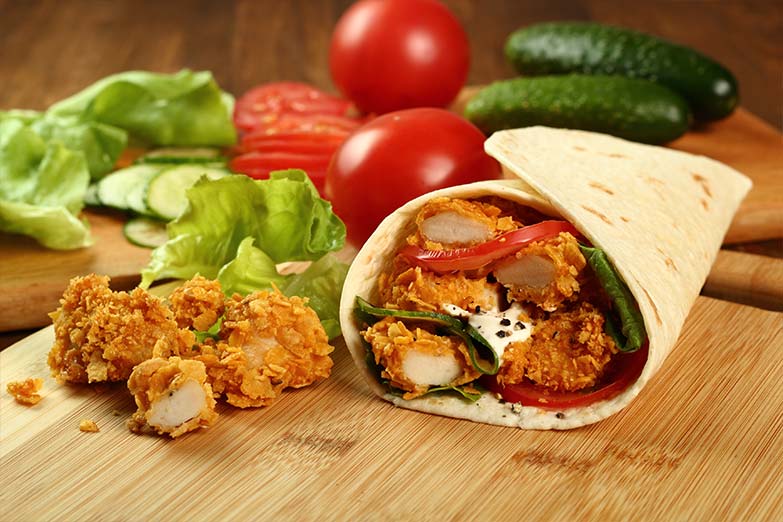 INGREDIENTS
2 chicken breasts, cubed
½ teaspoon salt
½ teaspoon black pepper
1 teaspoon garlic paste
1 cup maida
1 ¼ teaspoon salt
1/2 teaspoon black pepper
1/2 teaspoons garlic powder
2 eggs
3 tablespoons milk
oil for frying, such as vegetable or peanut oil
2 tomatoes, sliced
½ head of lettuce
Mayonnaise, ketchup or preferred condiment
6 medium flour tortillas
DIRECTIONS
1. Put chicken in a medium bowl. Season with salt, pepper and garlic paste. Marinate for 15 – 20 minutes. Set aside.
2. In meanwhile prepare the assembly line for coating & frying chicken pieces.
3. Put flour / maida, salt, black pepper & garlic powder in one shallow dish. Mix it together.
4. Whisk eggs & milk in another shallow dish.
5. Place chicken into flour mixture to coat. Remove from flour, shaking off any excess and coat in egg. Place back into the flour for a second coat.
6. Shake off any excess flour and place into hot oil to fry. Fry chicken 3-4 minutes per side or until golden in color. Make sure you don't put into very hot oil as the outside will fry up but the inside chicken will be raw. Remove onto paper towels to drain.
7. To assemble the wraps, place chicken pieces onto a tortilla. Top with lettuce, tomato and mayonnaise. Roll and eat!
Notes:
Photo Credits: Shutterstock.com
Inline popup