Shola
Shola is a traditional Afghani/Peshawari dish similar to haleem. It is made from mince, spinach and lentils and is a great way to use leftovers.
PREP TIME:

20 minutes

COOK TIME:

60 minutes

SERVINGS: 6

persons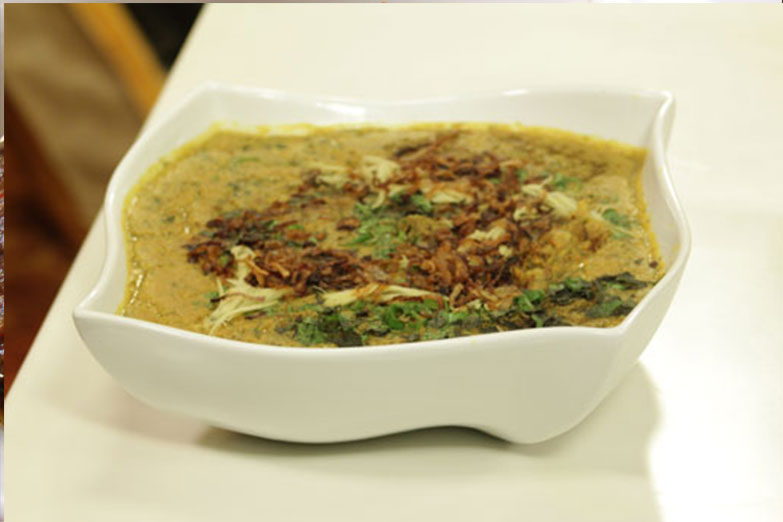 INGREDIENTS
½ cup ghee
1 tablespoon whole spices (sabit garam masala)
½ cup+1/2 cup brown onions
2 tablespoon ginger garlic paste
3 teaspoon chili powder
1 teaspoon turmeric
2 teaspoon salt
1 ½ teaspoon coriander seeds
½ kg beef / chicken mince
½ cup yogurt
1 cup green gram (moong ki daal)
4 cups spinach, finely chopped
1 bunch dill / soya, finely chopped
1/2 kg rice
2 tablespoon coriander leaves
2 green chilies, chopped
DIRECTIONS
1. Heat oil or ghee.
2. Add sabit garam masala and ginger garlic paste. Cook for 30 – 45 seconds till they splutter.
3. Add ½ cup brown onions, chili powder, turmeric, salt and coriander seeds. Cook for 2-3 minutes.
4. Add mince and fry well on high heat for 2-3 minutes. Add yoghurt and fry again for 2-3 minutes till half done.
5. Add soaked moong ki daal, spinach and dill (soya). Turn heat to low, cover pot and cook till half done.
6. Add soaked rice with 3-4 cups of water. Stir together and cook till rice is tender.
7. Top with ½ cup brown onions, coriander leaves and green chilies.
8. Serve hot.
Notes:
Inline popup