Paneer or cottage cheese in English is a fresh cheese that is made from milk and an acidic ingredient (usually lemon juice or vinegar). The process of making it is simple plus it's texture and flavor is such that it is a great alternative to meat. It is used in many vegetarian dishes like matar paneer or palak paneer or
paneer masala curry
. It can also be cut in cubes and added plain or grilled in salads. If it is made fresh and not pressed for a long duration the texture is soft enough to crumble on toast for a filling breakfast. Cottage cheese, lettuce and sliced tomato is actually one of our favorite breakfast options. Drizzle with some balsamic vinegar or olive oil.
The paneer can be made plain (with just a little bit of salt) or infused with spices and herbs for an added flavor component. Sliced garlic, red chili flakes, a pinch of Italian herbs, freshly ground black pepper or some sun-dried tomatoes are just some of the options available for playing around.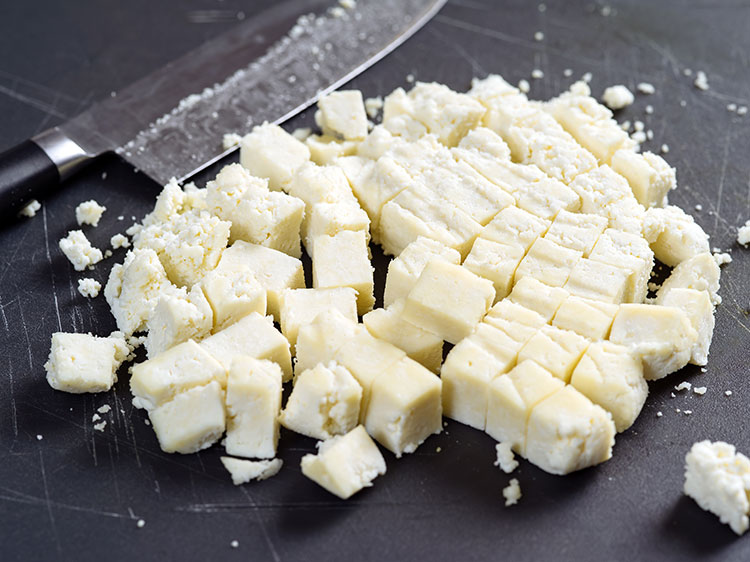 How to make Paneer
Quantity: Makes about 450 – 500 grams of cottage cheese
Ingredients:
2 litres full-fat milk (No TetraPak or UHT pasteurized)
1/4 cup lemon juice or vinegar
1/4 to 1/2 teaspoon salt
Instructions:
Pour milk in a saucepan and set over low-medium heat. Bring the milk to a boil making sure you stir every couple of minutes. Make sure you use your spoon to scrape the bottom of the pan as milk has a tendency of burning from the bottom and boiling over.
When the milk comes to a boil, turn off the heat and add your preferred acidic ingredient (lemon juice or vinegar). Once the lemon juice or vinegar is added, the milk will start curdling and the milk will start separating into curds and whey.
Give it a stir and let the milk stand for about 5 minutes to let the milk separate completely. At the end of the 5-10 minutes, the milk will have separated into curds and the water will start looking watery and yellowish-green. If the milk hasn't separated add another tablespoon of either lemon juice or vinegar.
Put a fine mesh strainer / colander over a large bowl and then line it with muslin cloth (malmal ka kapra). Pour the milk curds over the strainer. The whey will collect in the bowl below while the curds will be separated. The cloth should be large enough to collect the separated curd.
Sprinkle salt and seasonings (optional) over the curds and then close the muslin cloth in your hand and squeeze to strain the excess whey.
Place the muslin cloth (with the curds) on a large plate. Shape it into a square using your hands and then put a second plate on top. Weigh it down with something heavy (a can or weights or jars) for at least 20 minutes upto one hour.
The Paneer will set in this time and can then be cut into cubes. Make sure you use a plate with edges as the pressing weight will release whey.
Use the paneer right away or keep it refridgerated for two days.
Storage instructions: Keep in an airtight container.
Flavorings: If you wish to flavor your paneer then you can add some chopped garlic, red chili pepper, black pepper, Italian herbs, chopped coriander, mint leaves, sun-dried tomatoes, olives etc. Just add a teaspoon or more of your preferred seasoning after you add the salt and adjust to taste.
Inline popup