Beef Nihari
The best way to eat Nihari is in corner - hide your plate, get messy and lick your fingers in the end.
PREP TIME:

30 minutes

COOK TIME:

2 hours

SERVINGS: 4

persons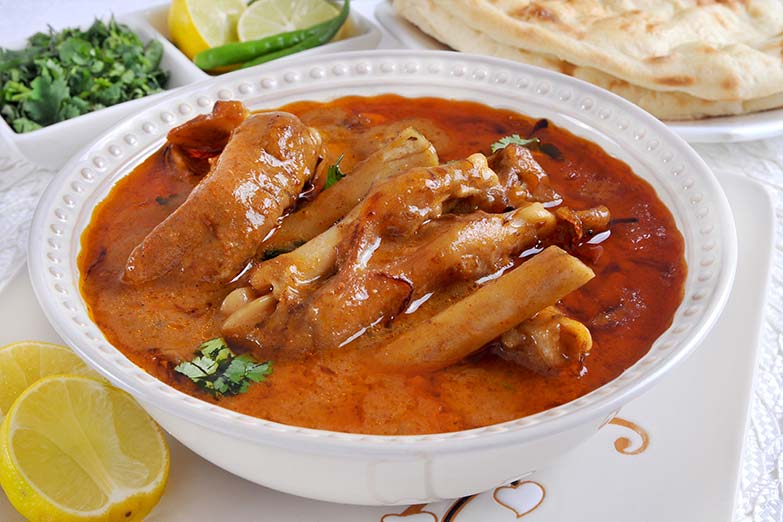 INGREDIENTS
Nihari Masala
2 tablespoon fennel / saunf
½ teaspoon black pepper
½ teaspoon cumin seeds / zeera
2 green cardamom / choti elaichi
10 cloves / laung
2 black cardamom / bari elaichi
1 stick of cinnamon / daalchini
1 bay leaf /tezpatta
¼ teaspoon nutmeg (jaifal)
¼ teaspoon mace (javitri)
2 tablespoon coriander (Dhaniya) seeds
1 stick piplee
1 aniseed flower / badiyan ka phool
For Beef Nihari
1/2 kg beef (beef shank – ask the butcher for nihari meat)
1½ teaspoon salt
½ teaspoon. red chili powder
½ teaspoon kashmiri chili powder (for color; paprika can be substituted otherwise)
¼ teaspoon turmeric powder
1 tablespoon coriander powder
1½ cup oil
3 tablespoon flour/maida
1 teaspoon ginger paste
½ teaspoon garlic paste
For Garnish
1 to 1 ½ inch ginger, julienne cut or thinly sliced
2 tablespoon chopped coriander leaves / dhaniya
3 to 4 green chilies, chopped
2 lemons, sliced
DIRECTIONS
1. Put the nihara masala spices in a spice grinder and grind them. Put the ground spices in a fine cotton cloth bundle and set it aside.
2. Put ½ cup oil in a pot. Add beef and fry it for 3-4 minutes till color changes.
3. Add salt, chili powder, turmeric powder, coriander powder and ginger paste. Saute for about 2 minutes, adding water if the spices stick to the pan.
4. Dissolve flour / maida in 1 cup of water. Add this to the meat and bring to boil.
5. Put the ground mixture of spices in a muslin cloth and add to the meat.
6. Add 5­6 glasses of water, cover and leave to tenderize on very low flame.
7. When meat has softened, remove the bundle of spices and cook the curry to desired consistency.
8. For the garnish, fry onion slices in 1 cup oil till they are golden brown and add to the Nihari.
9. Garnish with fresh ginger (sliced) and green chilies.
Notes:
Inline popup