Beef Korma
This korma recipe will be a hit in your family.
PREP TIME:

15 minutes

COOK TIME:

120 minutes

SERVINGS: 8

persons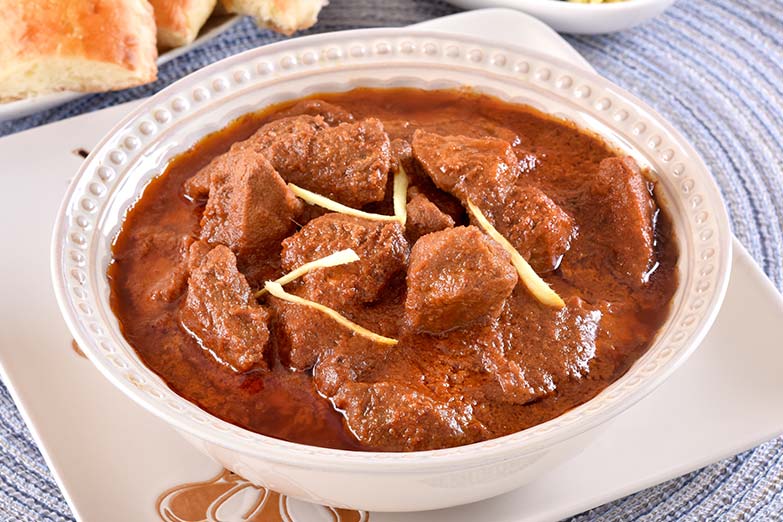 INGREDIENTS
6 cloves / laung
1 tablespoon coriander seeds / sabit dhaniya
1 tablespoon cumin seeds / sabit zeera
1 teaspoon green cardamom seeds / hari elaichi kay daanay
1 teaspoon crushed red pepper flakes / kutti laal mirch
¼ cup almonds (blanched & sliced)
8 garlic cloves
½ inch piece ginger root, roughly chopped
1 ½ teaspoon salt
½ teaspoon ground cinnamon
2 tablespoons + ½ cup oil
1 kg beef (cut into 1 inch cubes)
2 medium onions, thinly sliced
1 cup yogurt
2 tablespoon maida / flour
¼ teaspoon garam masala
2 tablespoon coriander leaves / hara dhaniya
DIRECTIONS
1. Take a small bowl and add coriander seeds, cumin seeds, cardamom seeds, crushed red peppers, and whole cloves. Put these ingredients into a spice grinder and grind into a fine powder.
2. Once the spices are ground add almonds, garlic, ginger, salt, cinnamon and 1/3 cup water. Grind until the mixture resembles a paste. Set aside.
3. Heat 2 tablespoons oil in a large pot. Once oil gets hot, add meat and fry for about 2-3 minutes till color changes and meat turns brown. Remove the meat and set it aside.
4. Add remaining oil in the same pan. Add sliced onions and fry till light brown.
5. Reduce heat to medium and add the reserved spice mixture. Saute for 3-4 minutes until spice is mixed through.
6. Add the meat and 1 cup water to the saucepan. Cover and simmer for 1 ½ to 2 hours or until the meat is tender and well cooked; by stirring occasionally.
7. Add yoghurt, garam masala along with flour (dissolved in water) and stir through. Cook while stirring till thick & bubbly.
8. Garnish with fresh coriander leaves and serve hot.
Notes:
Inline popup