Beef Shish Kebabs
Get the best quality meat to make these melt in the mouth tender beef kebabs.
PREP TIME:

15 minutes (plus 8 hours marination)

COOK TIME:

30 minutes

SERVINGS: 6

persons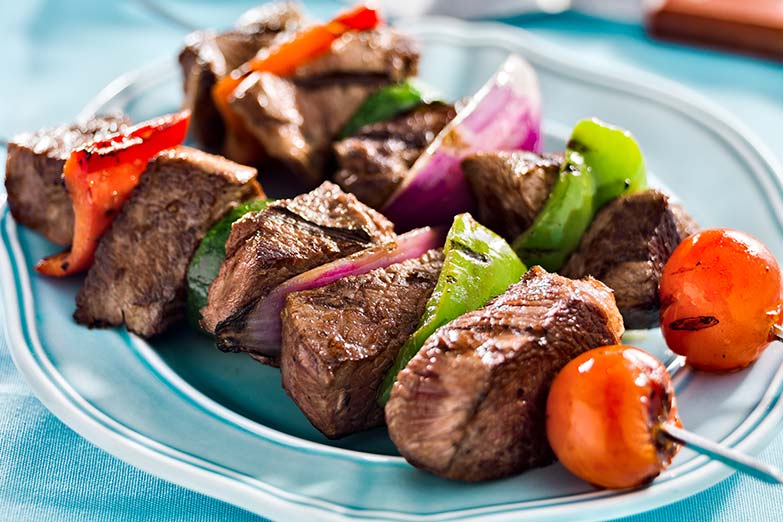 INGREDIENTS
1 kg beef undercut, boneless and cubed
4 cloves garlic, minced
2 teaspoons paprika or 1 teaspoon red chili powder
1/2 teaspoon ground turmeric
1 teaspoon ground cumin / zeera
1 teaspoon salt (adjust to taste)
1/2 teaspoon freshly ground black pepper
1/3 cup vinegar
1/2 cup olive oil
Meat tenderizer or papaya paste
2 medium onions, cut into quarters
2 medium tomatoes, cut into quarters
2 capsicum, cut into quarters
DIRECTIONS
1. Cut the beef into 1 1/2 to 1 3/4-inch cubes and place into a large mixing bowl. Set aside. The cubes need to be large enough to skewer properly yet small enough to cook quickly.
2. Put the garlic, paprika, turmeric, ground cumin, salt, black pepper, vinegar, olive oil and meat tenderizer in a bowl. Whisk together to combine.
3. Put the meat in the marinade and let it marinate for at least 6 – 8 hours.
4. Pre-heat the grill pan to medium heat. Thread the meat with vegetables on the skewer.
5. Cook the beef on medium-high heat till charred from the outside and then turn heat to low so that the meat can cook from inside.
6. Serve hot with rice and/or bread.
Notes:
Inline popup