One Pot Biryani
This jhatphat biryani just takes an hour and one pot to prepare. Less dishes to wash, less time to prepare but still tasting delicious.
PREP TIME:

15 minutes

COOK TIME:

45 minutes

SERVINGS: 4

persons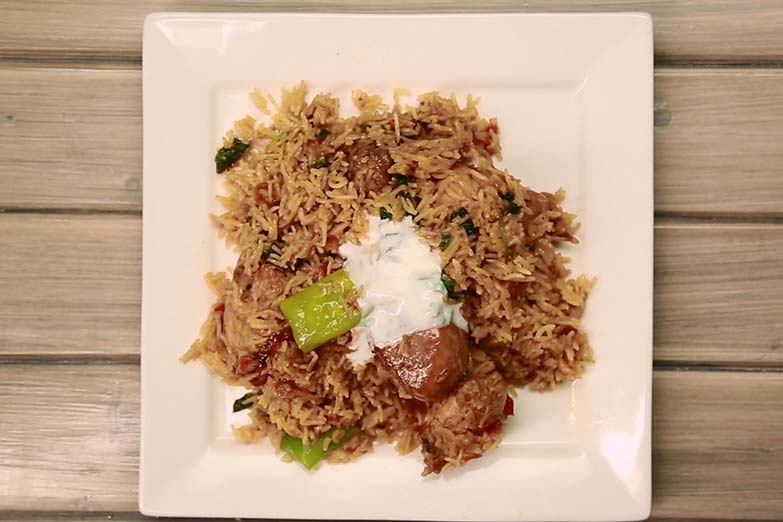 INGREDIENTS
½ kg basmati rice
¾ cup - 1 cup oil
2 medium onions, sliced
½ kg chicken (biryani-cut)
Sabit garam masala (2-3 laung, 4-6 kali mirch, ½ inch daal chini, 1 piece tezpath, 3 elaichi)
1 tablespoon ginger garlic paste
2 tomatoes, chopped
½ - 1 teaspoon red chili powder (adjust to taste)
¼ teaspoon turmeric
Salt to taste
1 cup yoghurt
3 cups hot water
2-3 green chilies
2 – 3 tablespoons coriander / hara dhaniya
2 – 3 tablespoons mint leaves / pudina
1 teaspoon garam masala powder
DIRECTIONS
1. Clean, wash and soak rice for about 20 minutes.
2. Heat oil. Add onions and saute till golden brown. Make sure they don't brown.
3. Take out 2 tablespoons of brown onion and set aside.
4. Add chicken along with sabit garam masala and saute for a few minutes till the chicken color changes.
5. Add spices (red chili powder, turmeric & salt to taste) and cook 1-2 minutes again.
6. Add tomatoes and cook till soft & mashed. Stir with a wooden spoon so you can keep mashing the tomatoes and also ensure that they don't burn.
7. Add yoghurt and cook for 1-2 minutes.
8. Add soaked rice, salt to taste along with hot water. Don't use a spoon to move the rice around as it can break.
9. Bring water to a boil. Turn heat to low and cover the pot. Cook for about 10 – 15 minutes till rice are half-cooked and water is reduced.
10. Open the cover and add reserved brown onions, coriander, mint leaves along with garam masala.
11. Leave on dum for about 10 minutes until done.
12. Serve hot with raita on the side.




Notes:
For more flavor & aroma in the biryani you can add a pinch of ground elaichi (green cardamom) when putting the rice on dum. Recipe Credits: Kiran Afzal
Inline popup