Rainbow Cake
Kids will love this colorful rainbow cake. Make sure you cover with white frosting completely so that you can surprise guests with the colors inside.
PREP TIME:

60 minutes

COOK TIME:

60 minutes

SERVINGS: 8

persons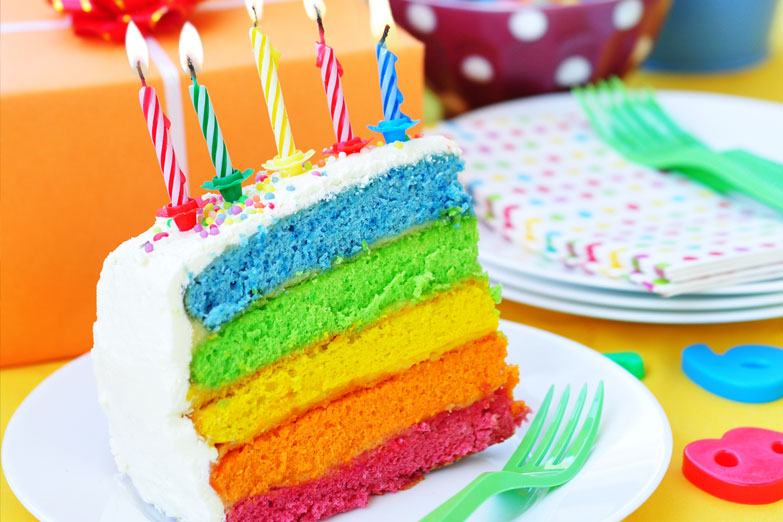 INGREDIENTS
Butter or oil, for greasing pan
3 cups flour / maida
4 teaspoons baking powder
1/2 teaspoon salt
200 gram / 1 cup unsalted white butter, room temperature
2 1/2 cups sugar (caster sugar or ground)
6 egg whites, room temperature
2 teaspoons vanilla essence
1 1/2 cups milk
Red, orange, yellow, green, blue, and purple gel food coloring
For Icing:
1 teaspoon vanilla essence
500 grams cream cheese or mascarpone – make sure it's white and not yellow
350 grams icing sugar
DIRECTIONS
1. Preheat oven to 180 degrees. Brush six 9-inch-round cake pans with butter or oil. If you don't have 6 pans, then you can bake and re-use the pans to make the rest of the cakes. Line bottom of each cake pan with parchment paper or brown paper. Brush with oil / butter again and set aside.
2. Take a large bowl and add flour, baking powder and salt. Whisk together and set aside.
3. Take a large bowl. Add butter and sugar. Using a hand beater, cream together butter & sugar till pale & creamy. Add egg whites and beat after every addition. Add vanilla essence and mix.
4. Add flour mixture and milk in two alternating additions, beginning with the flour and ending with the milk. Mix until well combined.
5. Divide batter evenly between six medium bowls. Take the same size bowls or weigh the batter for simple measurement. Add enough of each color of food coloring to each bowl, whisking, until desired shade is reached. Transfer each color to an individual cake pan. Transfer to oven and bake until a cake tester inserted into the center of each cake comes out clean, about 15 minutes.
6. Remove the cakes from oven and transfer to a wire rack. Invert cakes onto a wire rack after cooling for 5 minutes.
7. Use a serrated knife to trim the tops of cakes – this will make them level and allow for easier stacking. Set aside.
8. Take a large bowl and add vanilla essence & cream cheese. Whisk till smooth. Add icing sugar one cup at a time and fold in with a spatula till desired consistency is reached. Keep in the fridge for 20 – 25 minutes to let it chill.
9. Clear a workplace for icing & decorating the cake. Spread newspaper or kitchen towel for icing drips or cake crumbs. Cut out four strips of parchment paper around the perimeter of a serving plate or a lazy Susan. This will be used to catch any icing drips and can be removed in the end.
10. Place the purple layer on the cake plate. Spread 1 cup buttercream filling over the first layer with a small offset spatula so it extends just beyond edges. Repeat process with blue, green, yellow, and orange layers. Place the remaining red layer on top, bottom-side up. Gently sweep away any loose crumbs with a pastry brush. Using an offset spatula, cover the top and sides with a thin layer of frosting (also use any of the excess frosting visible between the layers). Refrigerate until set, about 30 minutes.
11. Using an offset spatula, cover cake again with remaining frosting.
Notes:
Inline popup