Lobia ka salan
This lobia ka salan is a great meatless option that you can add to your weekly dinner roster.
PREP TIME:

Soak overnight

COOK TIME:

30 minutes

SERVINGS: 4

persons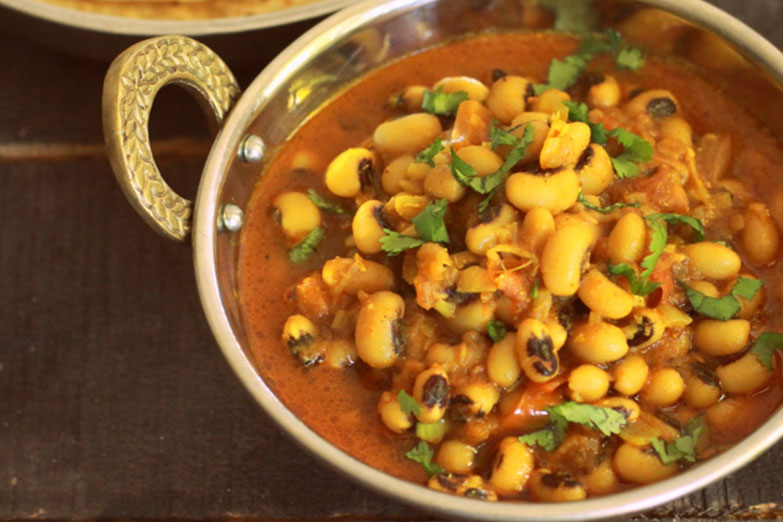 INGREDIENTS
250 grams white lobia (black eyed peas)
½ cup oil
1 cup onion (chopped)
1 tablespoon ginger garlic paste
1 teaspoon salt
1 ½ teaspoon chili powder
½ teaspoon turmeric (haldi)
½ teaspoon cumin seeds (zeera)
1 teaspoon coriander powder (dhaniya powder)
½ cup tomato paste
1 tablespoon coriander leaves
2 teaspoon green chilies (sliced)
DIRECTIONS
1. Soak lobia / black eyed peas overnight. Drain and keep aside.
2. Heat oil. Add onions and stir fry till light golden brown.
3. Add ginger garlic paste and saute for 30 – 45 seconds. Then add spices (salt, chili powder, turmeric, cumin seeds and coriander powder) along with tomato paste.
4. Cook for about 5 – 10 minutes on medium heat stirring constantly.
5. Add the white lobia and cook for 3-4 minutes on medium heat stirring to ensure the spices get mixed well.
6. Add about 4 cups of water and turn heat to low.
7. Cook lobia for about an hour till tender.
8. Garnish with coriander and green chilies.
9. Serve hot.
Notes:
Photo Credits: www.cookingwithsj.com
Inline popup