Fish Biryani
Try something different and make fish biryani for dinner.
PREP TIME:

30 minutes

COOK TIME:

45 minutes

SERVINGS: 4

persons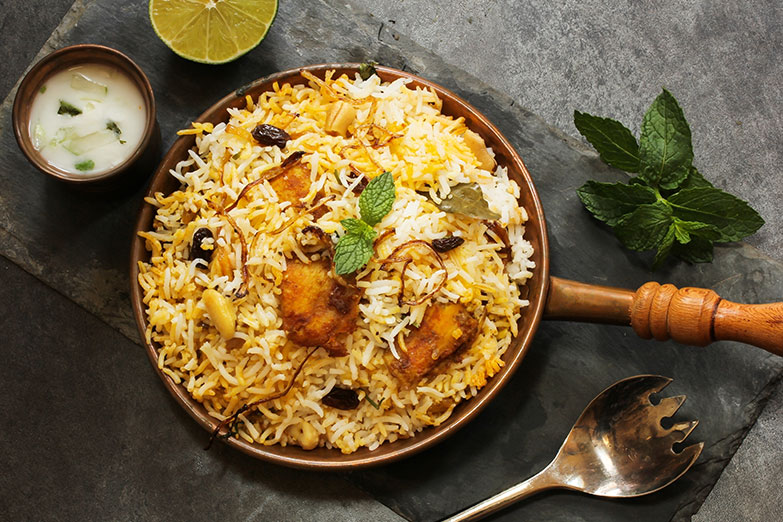 INGREDIENTS
Fish fillets, boneless ½ kg
Salt 2 teaspoon
Ginger garlic paste 1 tablespoon
Red chili powder 2 teaspoon
Turmeric (Haldi) ½ teaspoon
Garam masala 1 teaspoon
Cumin (roasted & crushed) 1½ teaspoon
Lemon juice 2 tablespoon
Oil ½ cup
Fenugreek leaves (methi) 4 small bunches
Brown Onion 1 cup
Tomatoes (sliced) 3
Coconut milk ½ cup
Green Chilies (chopped) 4
Coriander Leaves (chopped) ½ cup
Rice ½ kg
Whole spices / Sabit garam masala (peppercorn, cloves, cardamom and cinnamon) 1 tablespoon
DIRECTIONS
1. Clean, wash and soak rice.
2. Marinate fish with salt, ginger garlic, chili powder, turmeric, garam masala, cumin and lemon juice.
3. Heat oil and shallow fry fish for 5 mins and keep aside. Keep the leftover masala.
4. Heat oil in another pan and add fenugreek leaves (methi) and brown onion.
5. Add left over masala from fish with chopped tomatoes and ½ cup water.
6. Fry for a few minutes till tomatoes are breaking down.
7. Fry well. Add fish along with the coconut milk. Cover and leave it on dum.
8. In the meanwhile, heat oil in a pan.
9. Add sabit garam masala and sauté for about 30 seconds. Add soaked rice, water and salt.
10. Cover and cook till rice is half-done.
11. Add all the fish mixture on top of the rice.
12. Cover and keep it on slow flame for 20 mins.
13. Turn off heat and serve.
Notes:
Photo Credits: Shutterstock
Inline popup