Cold cake
Cold cake is a great dessert to make when you don't have an oven. Just make sure you use good quality cooking or milk chocolate for it.
PREP TIME:

15 minutes

COOK TIME:

145 minutes

SERVINGS: 6

persons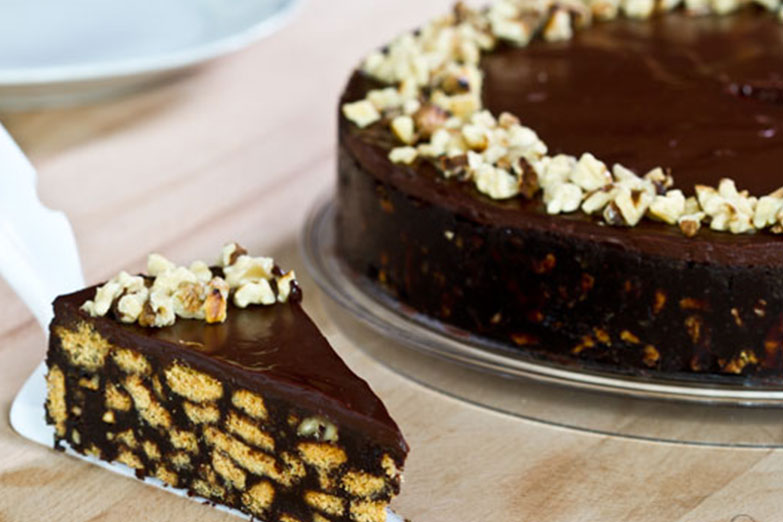 INGREDIENTS
300 grams plain chocolate, chopped
5 ounces butter, cut into pieces
1 tin condensed milk
100 grams digestive biscuit, roughly broken (or other tea-time biscuits)
DIRECTIONS
1. Line a loaf pan with butter paper making sure it extends up the sides.
2. Melt chocolate in double boiler or in the microwave. If melting in microwave then heat in 10-15 seconds intervals to make sure the chocolate doesn't scorch.
3. Add butter to chocolate. Let sit for 30 seconds then mix well. Add condensed milk and mix well.
4. Pour 1/3rd of the chocolate mixture into the base of the tin. Place the biscuits in a single layer over the chocolate.
5. Cover with chocolate then biscuits.
6. Pour over the rest of the chocolate, and then cover with plastic wrap.
7. Place in the fridge until set about 2 hours.
8. Loosen the edges of the cake with a sharp knife.
9. Turn out into plate. Cut into slices with a sharp serrated knife and serve.
Notes:
Photo Credits: Home Cooking Adventures
Inline popup