Places that offer more than just daal chawal for vegetarians in Karachi. 
We are a country that loves our meat – from barbeques to karhai's to handi's and even our rice dishes are primarily meat based. So it becomes really difficult when someone asks us for vegetarian options for eating out in Karachi?
Though none of the restaurants in the list are completely vegetarian, there are at least enough options on the menu to offer variety to our guests. After all, we can't go to an outlet and tell our vegetarian friend that the only thing they can order is the kachumber salad and raita.
Rajhdani Delights is probably the first name that comes up when someone talks about a vegetarian restaurant in Karachi. Specializing in Gujrati cuisine from Rajashthan Rajhdhani serves food in a thali with unlimited refills. It's completely vegetarian except for one chicken item (something for the meat lovers too!) and the best part is that there's variety. Dhokla's for starters followed by bhindi, aloo, daal, karhi, maybe some baighan or some cabbage. There are salads and chutney's to be added as per your personal taste along with rice, puri and phulka. The meal ends with dessert and chai.
Their lunch buffet starts at 12:30 pm – 4:30 pm and their dinner buffet is from 7:30 pm- 11:30 pm. Currently, they have a lunch deal going on for buy one thali get another one free.
East End is probably the only restaurant in Karachi that offers customers a full course dinner experience. They offer a 5 course set menu based on the different cuisines of Karachi.
It starts off with a welcome course, two appetizers, a main course followed by dessert. All courses come with a paired drink with the dessert course being paired with a hot beverage. A bit confusing to understand but what you need to remember is that their vegetarian menu is titled 'Gharo' and even if your guests don't understand the procession of items coming every couple of items they will love the experience!
In case your vegetarian friends are getting tired of eating the same old Desi daal, sabzi and chawal take them to Patio at E-street, Clifton. Though they only have two vegetarian main courses they have an array of tapa's with their lavash bread basket which will be a treat for people who want to try out something different.
Recommended Items:
Honey Crunch Lotus Stems, Baked Feta, Asian Eggplant, Paneer Kalimari, Mezze Platter, Paneer & Mushroom Kuzhambu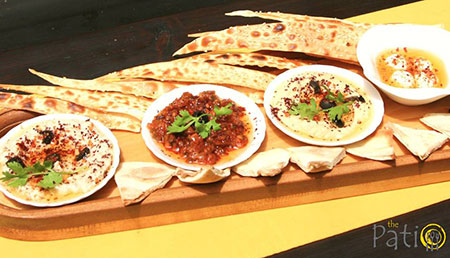 Photo:
Arabic-Mezze-Platter - Hummus,-Baba-Ghanoush and Labneh served with grilled pita bread & lavash (taken from FB Page)
If you are craving ghar ka khana and are too tired to make it yourself, Cafeela is your go-to place! They use seasonal ingredients which means that their menu keeps changing every couple of days but that also means the vegetables used are fresh and in season. They also make their food in olive oil and can reduce spices & oil as per request. They are primarily delivery based but they have a dine-in location at Shahbaz.
Recommended Items:
Bhindi in olive oil, Palak Paneer, Aloo Methi ki Sabzi followed by Shahi Tukray for dessert.
Yes yes, Mirchili is always associated with chaat and they make some really chatpatti versions of it. But in the last couple of years, they have expanded the menu to include more Indian delicacies with a majority of them being vegetarian.
For e.g. their South Indian menu includes not just dosa but also Idli and Uttapum (an open faced ricale paratha with toppings). They also have pav bhaji and a range of bun kebabs on offer. Definitely a place to take your chatora vegetarian friend.
Recommended Items:
Khaas Chaat Thali, Aloo Bun Kebab and Dosa's.
When it comes to vegetarian items on the menu, Chatkharay is pretty much all about the chaat or halwa puri on the weekends. But what you might know is that they have baighar-e-baighan and mirchon ka salan as part of their frozen menu. A dream come true for people who are fans of Hyderabadi cuisine.
Recommended Items:
Sev Puri Chaat and Baighar-e-Baighan
Yes, BBQ Tonight is not the first thing that comes to mind when you think of vegetarian food. However, just like their exemplary service they have adapted their menu to suit all palettes. For people who are wanting to eat healthy and avoid, they have made a vegetarian version of their seekh kebabs! Why should only meat lovers enjoy the BBQ?
Not only that, their middle eastern menu has a range of interesting salads which anyone would love. The regular seasonal vegetables like palak paneer & daal makhani have always been there.
Recommended Items:
Vegetarian Seekh Kebab, Hummus, Palak Paneer and Taboleh Salad.
If your guests want to try gourmet vegetarian or if you want to experiment with textures & crunch then Mews on E street is where you need to go! They have been getting their menu consultation from Samar Husain of Pinch & Co fame and every few weeks we see her experimenting with some new ingredient. Crispy quinoa, earthy beets, fresh mushrooms, a hint of truffle oil and quirky kimchi are just a few of the interesting vegetarian items that we see them incorporating in the menu.
Recommended Items:
Superfood Quinoa Salad, Gourmet Mushroom Omelette, Trio of Grilled Cheese (Ask them to skip the turkey bacon).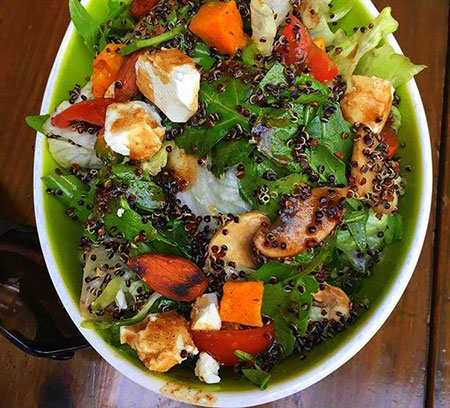 Photo: Superfood Quinoa Salad from Mews (taken from FB Page)
Whenever the name of Lals comes up, we all think of ice-cream and chocolate. But their cafe at both DMC & Shahbaz has a comfort food menu that deserves attention. If you are in the mood for a bowl of soup and a sandwich followed by a hot cup of coffee or maybe a decadent sundae Lal's is where you should go!
Recommended Items:
Tomato Basil Soup, Crostini Platter, Grilled Cheese Sandwich, Scones with Clotted Cream & Jam.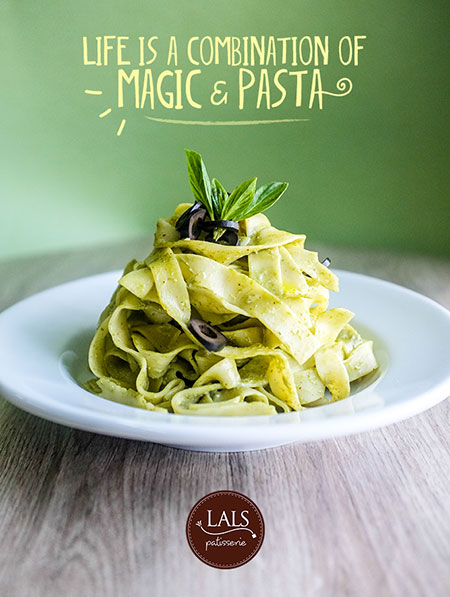 Photo Credits: Fettuccine tossed in roast almond and ricotta pesto sauce from Lals FB page.
Wait – there's more!
If your friends are craving for some 'ghar ka khana', there are always our dedicated home base caterers. They do require advance notice as they don't operate a commercial kitchen but as they focus on specialized items for a niche audience it's worth it.
We have Mehvish Abubakr of
Sinful bite
s who does this Indian street food deal every few days – ragda patties, vada pav's, corn patties, pav bhaji and gujrati dhokla!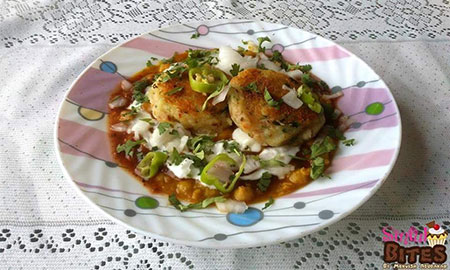 Photo
- Ragda Patties from Sinful Bites (Picture from FB Page)
Sehr Pirzada of
Flavors of the Mediterranean
makes home-made paneer in a range of flavors from Italian, Mediterranean to more available online or from supermarkets. Great for breakfast and dinner.
Urban Kitchen by Samina Khan
are known for their canapes, appetizers and hours de overs. With options for customization, they will create a vegetarian platter that will make you forget the meat!
If you are at home and looking for vegetarian recipes, please visit our website at
www.desiappetite.com.
Inline popup