Spaghetti Sauce with Meatballs
Spaghetti with Meatballs is an Italian classic. Meatballs are simmered in a rich tomato based sauce and tossed with spaghetti.
PREP TIME:

20 minutes

COOK TIME:

2 hours

SERVINGS: 6

persons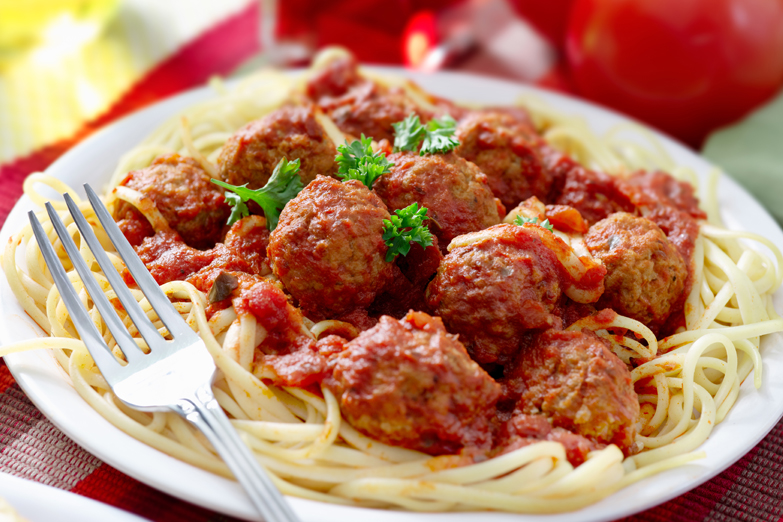 INGREDIENTS
For Meatballs:
½ kg ground beef / beef qeema (preferably lean veal meat)
1 cup bread crumbs
1 tablespoon dried parsley
1 tablespoon grated Parmesan cheese
1/4 teaspoon ground black pepper
1/8 teaspoon garlic powder
1 egg, beaten
For Sauce
3/4 cup chopped onion
5 cloves garlic, minced
1/4 cup olive oil
2 (28 ounce) cans whole peeled tomatoes
2 teaspoons salt
1 teaspoon sugar
1 bay leaf / tez patta
6 ounces tomato paste
3/4 teaspoon dried basil
1/2 teaspoon ground black pepper
400 grams boiled spaghetti
DIRECTIONS
1. In a large bowl, combine ground beef, bread crumbs, parsley, parmesan, 1/4 teaspoon black pepper, garlic powder and beaten egg. Mix well and form into meatballs. Will make about 12 – 15 meatballs. Store, covered, in refrigerator until needed.
2. In a large pan over medium heat, saute onion and garlic in olive oil until onion is translucent.
3. Stir in tomatoes, salt, sugar and bay leaf. Cover, reduce heat to low, and simmer 90 minutes.
4. Stir in tomato paste, basil, 1/2 teaspoon pepper and meatballs and simmer 30 minutes more.
5. Serve with spaghetti.
Notes:
Inline popup