Green Chicken Salan
If you are a fan of green chilies and dhaniya, then you need to try this green chicken ka salan.
PREP TIME:

15 minutes

COOK TIME:

45 minutes

SERVINGS: 6

persons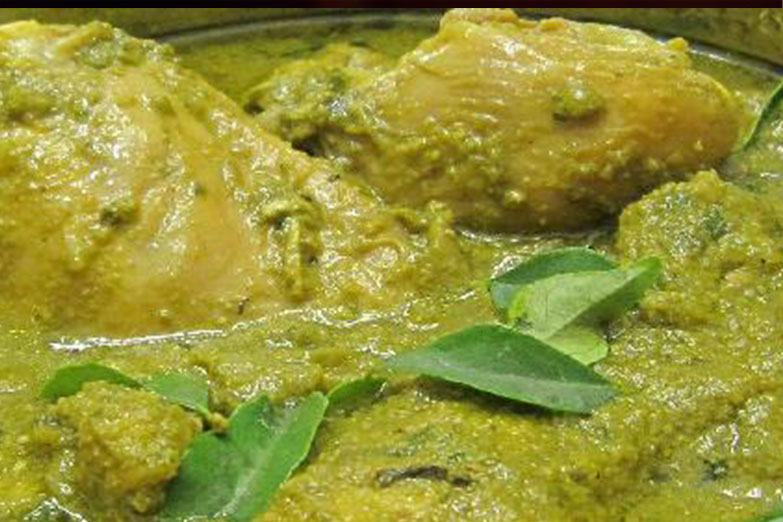 INGREDIENTS
½ cup oil
1 tablespoon ginger garlic paste
1 teaspoon coriander powder (dhaniya powder)
¼ teaspoon turmeric (haldi powder)
1 ½ teaspoon salt
1 cup yogurt
1 kg chicken, cut into 12 pieces
4 tablespoon brown onions
1 bunch coriander leaves (dhaniya)
12 green chilies
½ teaspoon garam masala
1 teaspoon kewra
DIRECTIONS
1. Blend brown onions, coriander leaves and chilies with water till a chunky paste is formed.
2. Heat oil.
3. Add ginger garlic paste and fry for 30 – 45 seconds.
4. Add the spices (coriander powder, turmeric and salt) and yoghurt. Fry well for 2-3 minutes.
5. Add chicken and cook on medium – high heat till color changes from pink to white.
6. Add green chilies paste to the chicken.
7. Turn heat to simmer and cook till tender.
8. Add garam masala and kewra in the end.
9. Let it cook on dam for 1-2 minutes then serve hot.
Notes:
Photo Credits: Bawarchi.com
Inline popup