Palak Paneer
We love this vegetarian dish - creamy spinach gravy with fried paneer cubes.
PREP TIME:

15 minutes

COOK TIME:

45 minutes

SERVINGS: 4

persons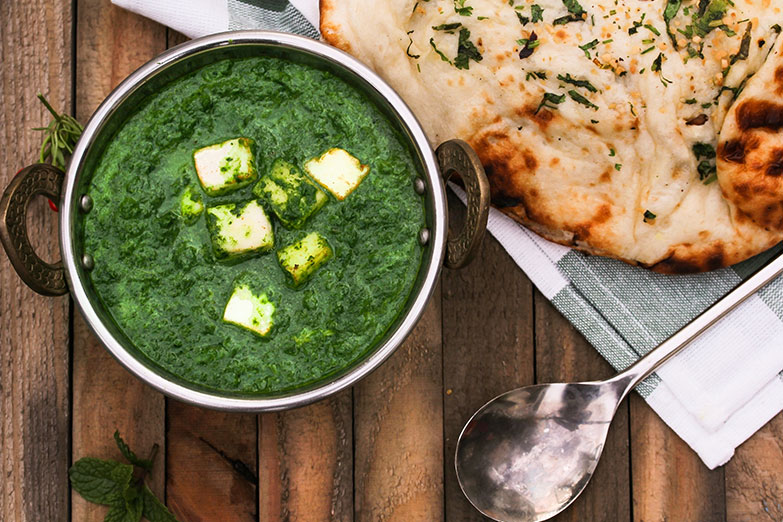 INGREDIENTS
One large bunch fresh spinach leaves /palak (about 400 grams)
1 or 2 green chilies, chopped
Hot water for blanching spinach
Cold water plus ice-cubes for ice-bath
250 gms paneer or cottage cheese
Cornflour, for coating
Oil, for shallow frying and cooking
1 medium sized onion, finely chopped
4 to 5 garlic cloves finely chopped
½ teaspoon cumin seeds (zeera)
½ teaspoon red chili powder
1 teaspoon salt
½ teaspoon garam masala powder
1/4th to ½ cup water or add as required
4 tablespoon cream
DIRECTIONS
1. Rinse spinach leaves in water.
2. Boil water in a large pot. Add 1/4th teaspoon salt to the water and add spinach in the hot water. Close the lid and let the spinach sit in the water for 2-3 minutes.
3. Drain the spinach in a colander and immediately add the spinach in a bowl containing ice-cold water. This method of putting vegetables in hot than cold water is known as blanching. It preserves the beautiful green color of vegetables.
4. Drain the water from spinach and then add it in a blender with green chilies.
5. Make a smooth paste. There is no need to add water. Set aside.
6. Cut the paneer or cottage cheese into cubes. If you prefer soft paneer then the cubes can be used just like that otherwise you can coat in cornflour and fry for a crispy & crunchy exterior.
7. Coat the paneer cubes in cornflour then shallow fry till light golden.
8. Drain on kitchen towel and set aside.
9. Heat oil in a karhai or a wok.
10. Add cumin seeds and cook for about 20 – 30 seconds till they splutter.
11. Add finely chopped onions and cook till light golden.
12. Add finely chopped garlic and cook till it is light golden.
13. Add the spinach puree along with salt, garam masala and red chili flakes.
14. Add about 1/4th cup – 1/2 cup of water as required.
15. Cook for about 10 minutes till the spinach becomes hot. You can see small bubbles at the edges and the spinach will splutter and splash.
16. Add half the cottage cheese cubes and stir though.
17. Add cream and swirl. Turn off the heat and take out the spinach in a dish.
18. Top with the remaining paneer or cottage cheese along with cream.
Notes:
Though paneer or cottage cheese is available at supermarkets, you can also make your own using our handy guide.
Inline popup